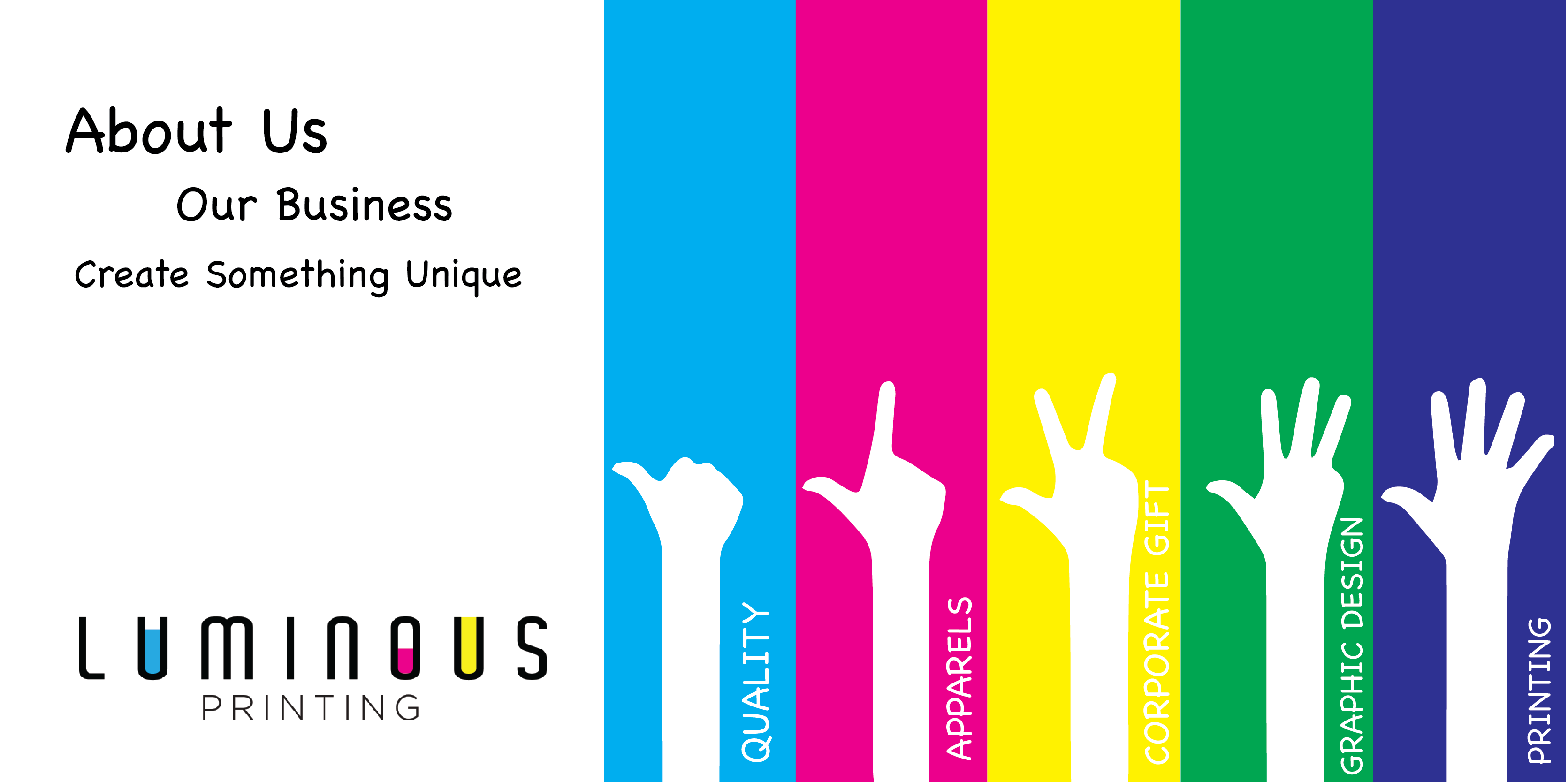 Started humble in 2012, Luminous Printing is a T-shirt printing company in Singapore. We do not focus our business solely on apparel printing; Luminous is known as a corporate gift supplier in Singapore as well. If you are thinking that we are just another ordinary t-shirt printing company, think again. Luminous offers the cheapest t-shirt printing/ apparel printing and also corporate printing in Singapore with outstanding service from start to end. With more than 5 years of experience and services; we believe that our expertise will help in creating 'Luminous' products for you.
We have a huge variety of T-Shirts or Corporate tops that are of different materials. Ranging from round-neck to polo (collar tee), windbreakers to jackets, cotton to dry-fit, and there is nothing that you couldn't find from Luminous printing. You might think that we are boosting, but our suppliers have all the lines of garments that you need. Simply click here to check out what we have for you.
Not only the products or materials, the printing methods that we offered are marching towards perfection in choices. You can definitely expect a state of the art product with any printing method as our machines and production team are one of a kind and very experienced in all the types of printing that we offer. If you would like to go through on the types of printing that we have, just click on this *LINK* to find out more about the printing methods.
If you still couldn't find the piece of garment you desired, why not trying to customize corporate wear for yourself / your company? Having it to be a polo tee or a uniform, with many years of expertise in the industry, we do have our production team of fulfilling your requirements in getting your custom-made corporate wear or uniform. On second thoughts to find a platform where they will offer all-around service includes the printing of your corporate merchandise as well? Why not look for Luminous. We are not functioning and offering solely the cheapest T-shirt printing in town, we are also offering the cheapest corporate gift printing in Singapore. We have been one of the corporate gift suppliers that do not only have the cheapest price, but we are being one of the suppliers with the widest collection of corporate gifts that you can choose from. Yes, believe me, it is the truth. You are able to get the whole set of your dream team of T-shirts and corporate gifts merchandise that suit your business or event all under one roof, saving the time and money from running to two or more places.
Looking to brand effectively? We also provide 1 stop marketing collateral printing services such as Menu, Packaging, Catalogue, Brochure, Flyer, Poster, Name Card, Badge, Magazine Ads, Voucher, Banner/Pull up Banner and etc. Email direct marketing (EDM) & Web Banner is part of our services as well. With the combination of the mentioned service, T-shirt, and corporate gifts printing, you could create wonders with Luminous.
Quality
Do you usually find the quality of your customized or personalized printed T-shirt to be worn out easily? Come to us. We provide products with the best quality you can find in town. You could hand-pick your products before printing by requested to have a look at the sample products. Just drop by our office or request to have the sample delivered to you (with terms apply). Still worried that the quality might not be as good as the time you had closer look at the samples. Need not worry about it. Our quality assurance team will check & ensure the quality of products before it steps out of our door.
Budget concern?
Rest assured! We offer the most affordable and competitive pricing that fits perfectly with your budget as we are true to what we promise, cheap T-shirt printing and cheap corporate gift printing.
Customer satisfaction is always our priority. Printing with us is hassle-free – Not to worry as your decision and products are in good hands. We ensure immediate/efficient response and fast delivery of our product is beyond your expectation. The few things you do are to decide, sit back and relax to receive your goods.
What are you waiting for? Start your apparel printing/ corporate gift printing with Luminous Printing Singapore. For assistance or further enquires, feel free to call us or WhatsApp at +65 9119 5104 or drop us an email at sales.luminousprinting@gmail.com