Tips To Taking Care Your Printed T shirts 
All printing methods will not last long forever, it will be gone after quite a number of washing. Even stitches embroidery will also need to take good care.
Is this the first time you print your tshirt? You have no idea how to take care of your printed t shirt? If yes, please do refer to below some tips of taking care your printed tshirt given by Luminous Printing.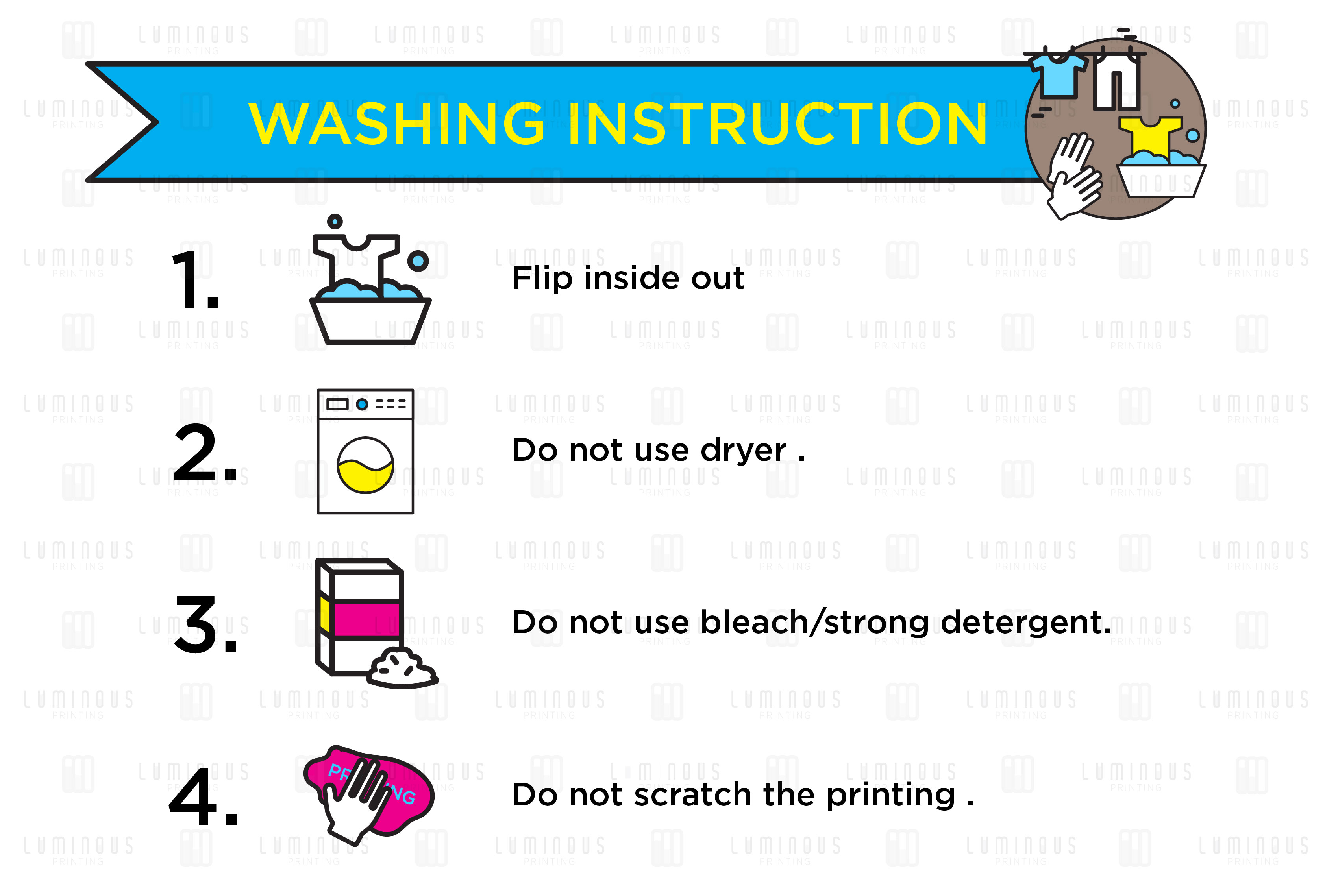 1. Flip the t shirts inside out and only throw into the washing machine
This is the most common method to take care of the printed t-shirt. This is a way to prevent the tshirt printing from disappearing easily and prolong a better lifespan. This basic protection should take place when you do your washing.
2. Turn on your washing machine with cold water
Cold wash is always being recommended by all apparel industries. It only tells people that cold wash is better than warm wash. With a certain temperature of heat will cause the printing to be gone.
3. Do Not use bleach or strong detergent
This is a No No action to take while you use a white tshirt that is printed with some design. Whatever t shirt will be printed, it definitely will be gone. We always tell luminous printing customers to use mild detergent for washing purposes.
4. Do Not use Dryer
Dryer is even worst to be use than a bleach detergent. One you use dryer, your tshirt with printing will be the one who 'die' first. Just wash and hang it for drying purpose.
5. Do not try to scratch the printing
As our tshirt is printed with different method of printing. For silkscreen printing, it's using the water based ink with heat press technique as finishing. For Digital Heat Transfer, it's using sticker base. Both printing methods are unable to hold the scratching power done by the user. Printing will crack or disappear easily. 
If you have any questions, do refer to our FAQ Session to get your answer, or you could drop us an email at sales.luminousprinting@gmail.com or call us at 91195104.